Are you looking for a practical SUV in Rome, NY/ Utica, NY area that will allow you to transport all your family members and their gear without any trouble? If so, the Honda CR-V is a great choice. Although it's a compact SUV, the CR-V is a standout when it comes to space. Whether you're a single adult transporting friends and sports gear, or a parent with rear-facing child seats and strollers, the Honda CR-V offers plenty of space to make everyone comfortable.

Its space and comfort sets the Honda CR-V apart, but the CR-V has other perks as well. It has an above-average reliability rating and outstanding gas mileage. Available all-wheel drive makes the CR-V a good vehicle for people in snowy and icy climates, while available tech features and driver-assist technologies help drivers stay safe and connected while on the road.

Size and Capabilities: The Honda CR-V is much more roomy than many compact SUVs. The rear seat has 40 inches of legroom, which means that adults can ride back there comfortably, and there's plenty of space to install rear-facing car seats without cramping the front passengers.

The CR-V really shines when it comes to cargo space. With the rear-seat in use, the CR-V has more than 39 cubic feet of cargo space, more than almost any other compact SUV. That increases to a whopping 106 cu-ft of cargo space when the rear seats are folded flat. The rear row has a 60/40 split, allowing you to divide the cabin between cargo and passengers. If you need a small SUV with plenty of storage options, the CR-V just can't be beat.

The CR-V has an optional tow option that equips the vehicle to tow up to 1,500 pounds. That's enough to move a jet ski, small boat, or small yard trailer.

Engine Options and Fuel Economy: The most recent generation of the CR-V (model years 2017 and later) comes standard with a 184-horsepower 2.4-liter four-cylinder engine. With that engine, the CR-V gets an EPA-estimated 28 mpg combined fuel economy for front-wheel drive, dropping to 27 for all-wheel drive.

All but the base trim level come with a turbocharged 1.5-liter four-cylinder engine that produce 190 horsepower. With that engine, the CR-V gets 30 mpg combined fuel economy in front-wheel drive, and 29 mpg combined in all-wheel drive.

Safety: The Honda CR-V is a very safe car. The National Highway Traffic Safety Administration (NHTSA) gave it an overall five-star crash-test rating, and The Insurance Institute for Highway Safety (IIHS) gave the CR-V the highest rating of "good."

The Takeaway: The Honda CR-V is an excellent choice for drivers who are looking for a practical, comfortable, and spacious vehicle in Rome, NY/ Utica, NY area. The CR-V gets great gas mileage (up to 30 mpg combined) and has cargo space that rivals that of large SUVs like the Chevy Suburban, on a much smaller platform.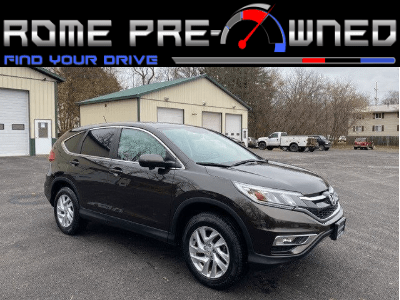 Take a look at our CRV and don't hesitate to schedule a test drive or request more info. Also, like us on Facebook.com/romepreownedauto